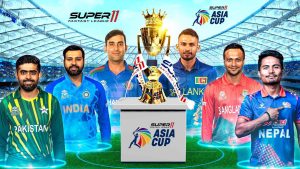 Super 11 Asia Cup 2023: Unveiling the Epic Cricket Showdown

The Asia Cup is an international cricket tournament that features teams from countries in the Asian continent. It is one of the most significant cricket events in Asia and is organized by the Asian Cricket Council (ACC). The tournament typically includes One Day International (ODI) and Twenty20 (T20) matches, depending on the edition. 
The much-anticipated Asia Cup 2023 promises to be a thrilling ODI tournament, featuring six formidable teams. This year's competition will be divided into two fierce groups, Group A and Group B.
Super 11 Asia Cup 2023
To add an exciting dimension, the tournament will adopt a distinctive hybrid format. Pakistan will host four exhilarating matches at two prestigious venues, while Sri Lanka will set the stage for the remaining enthralling encounters.
The Format of Asia Cup 2023:
In the 2023 Asia Cup, the six teams are split into two groups. The top two teams from each group will advance to the Super 4 stage. From there, the top two teams will battle it out in the final showdown.
Group A:
Pakistan

India


Nepal
Group B:
Bangladesh

Afghanistan

Sri Lanka



Asia Cup 2023 Title Sponsor: Super 11
This year Asia Cup 2023 title sponsor is Super11. Super 11 isn't just a fantasy league; it's your gateway to crafting winning teams for both cricket and football while reaping big rewards.

What makes Super 11 stand out are its extraordinary features, known as

Unique Selling Points (USPs):
Zero Withdrawal Charges:

Enjoy your winnings to the fullest with no withdrawal fees. More money stays in your pocket where it belongs.

Earn 10% from Downline Investments

:  Earn an impressive 10% commission on investments made by those you introduce to the Super 11 family.

Gain 10% from Downline Winnings:

 You receive a 10% share of the winnings generated by users you've introduced to Super 11, boosting your rewards.
Meet the Founder of Super 11 – Omar Khan OK
Super 11 is a hub of excitement, and at its helm stands the visionary founder, Omar Khan OK – also the proud owner of our B-Love Kandy team. With an unwavering passion for cricket and a dee p dedication to the world of online games, Omar Khan OK is etching his indelible mark in the industry. All of his projects are always full of excitement. So what are you waiting for?
Download now Super 11 and earn big. 
https://super11.games/