Get a Free Ticket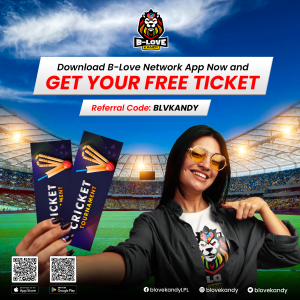 Scan and download the B-Love Network app now for a chance to win a

𝐅𝐑𝐄𝐄 𝐌𝐀𝐓𝐂𝐇 𝐓𝐈𝐂𝐊𝐄𝐓

& $700 in 350 days.
Simply show the downloaded app to any volunteer and enjoy a complimentary entrance to the match.
Don't miss out on this exciting opportunity to experience the game of a lifetime for free!
Download B-Love Network App by Clicking or Scanning the QR Code
Use Referral code: BLVKANDY
Experience the limitless potential of B-Love Network by becoming a member of this thriving community. By staking with B-Love Network, you can earn effortlessly and take control of your financial future. Embrace the power of B-Love Network, download the app, use referral code BLVKANDY and unlock a world of possibilities.