Today, we're taking you on an adventure to the cricket field, right in the heart of Kandy City. This place has become quite special for us as we've managed to secure victories in both of our matches here. And the excitement doesn't stop there – we're gearing up for another match tomorrow, on the 8th of August. Let's buckle up for more action and see what fate has in the stadium for us!
B-Love Kandy VS Jaffna Kings
Before we jump into the future, let's rewind a bit and relish the thrilling moments from our recent encounters in Kandy City. On August 5th, we went head-to-head against the formidable Jaffna Kings. This particular match is etched in our memories as one of those unforgettable battles. 
We walked away with a triumphant victory, holding 8 wickets in hand and a whopping 42 balls still to be played. Our performance was nothing short of spectacular, a display of our cricketing prowess that left everyone in awe. Among the stars of the day was Wanindu Hasaranga, who was rightfully crowned the "Player of the Match" for his exceptional performance.
B-Love Kandy VS Dambulla Aura
Stepping back a day, on August 4th, we faced off against Dambulla in yet another thrilling showdown. True to our form, we secured victory with 7 wickets to spare and a mere 9 balls remaining. It was a nail-biting contest that saw our team's determination and unity shine brightly as we battled to emerge victorious.
And here's a slice of extra excitement – in each of these matches, a whopping 10,000 passionate cricket fans showed up to support us in Kandy City. The feeling was truly overwhelming, as their cheers echoed through the stadium, creating an electric atmosphere that spurred us on.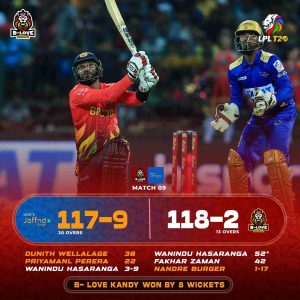 Upcoming Match B-Love Kandy VS Galle Gladiators 
Now, let's look ahead to our next match in Kandy City. The air is buzzing with anticipation, and it's as if the stars are aligning in our favor when we play there. Our team stands united and ready to face new challenges with optimism in our hearts. The cricketing arena reverberates with the echoes of these fans, a chorus of support that lifts our spirits.
With every swing of the bat and every cheer from the crowd, we edge closer to our goals. The stage is set, and we're geared up to give it our all. While we can't predict the future, we're committed to putting in our best effort. 
So, get ready for more cricket action as we gear up for another thrilling chapter in our cricketing journey. Kandy City has truly proven to be a lucky charm for us, and we're eager to see what's next on our adventure. Let's march on toward victory, team!