The highly anticipated LPLT20 is just around the corner, and fans all over the world are eagerly waiting for the tournament to kick off. After the tremendous success of last year's matches, the Sri Lanka board has announced the fixture for the fourth season of LPLT20, which is set to captivate cricket enthusiasts once again. With five teams competing in this year's edition, the stage is set for an exhilarating contest among some of the best cricketing talent in Sri Lanka.
LPL T20 Teams
The participating teams for LPLT20 are B-Love Kandy, Dambulla Aura, Jaffna Kings, Colombo Strikers, and Galle Gladiators. As the news of the fixture spreads, fans are buzzing with excitement and anticipation. Each team boasts a formidable lineup of players, and the competition promises to be fierce.
We have chosen one of the most strongest player for the B-Love Kandy. Led by the talented Wanindu Hasaranga, B-Love Kandy has assembled a squad comprising Angelo Mathews, Fakhar Zaman, Mujeeb Ur Rahman, and other exceptional players. The team's combination of experience and youth has garnered attention and raised expectations among fans and experts alike.
LPL T20 Match Fixture
Now, let's take a closer look at the LPL 2023 Match fixture for the upcoming LPLT20 season: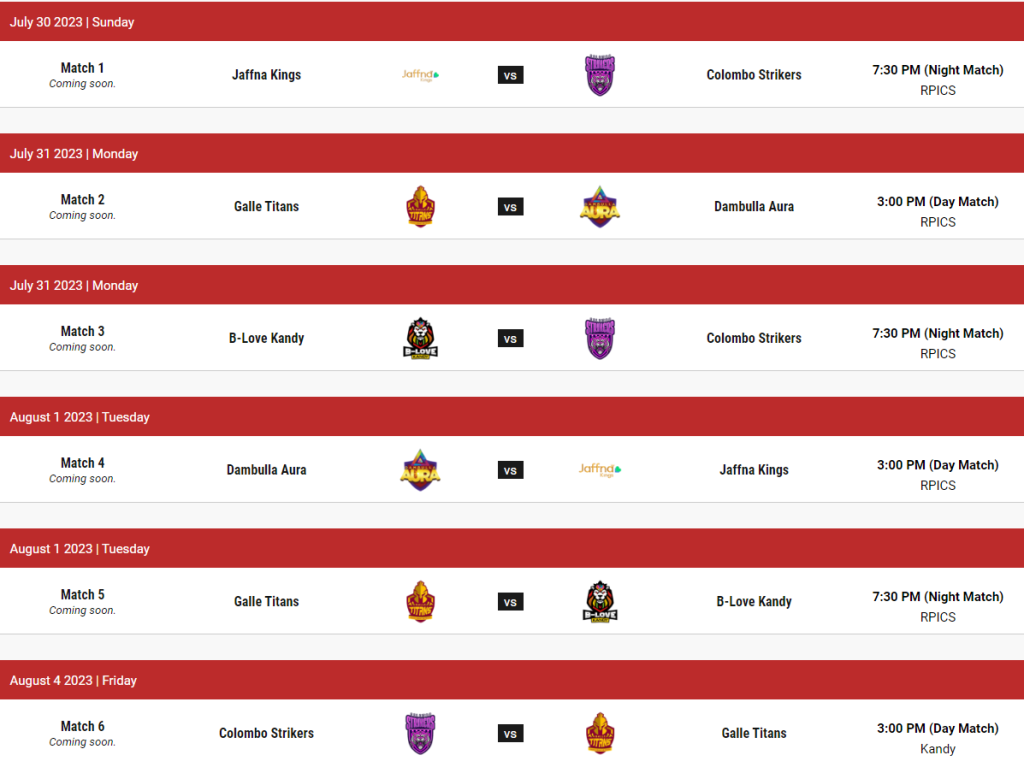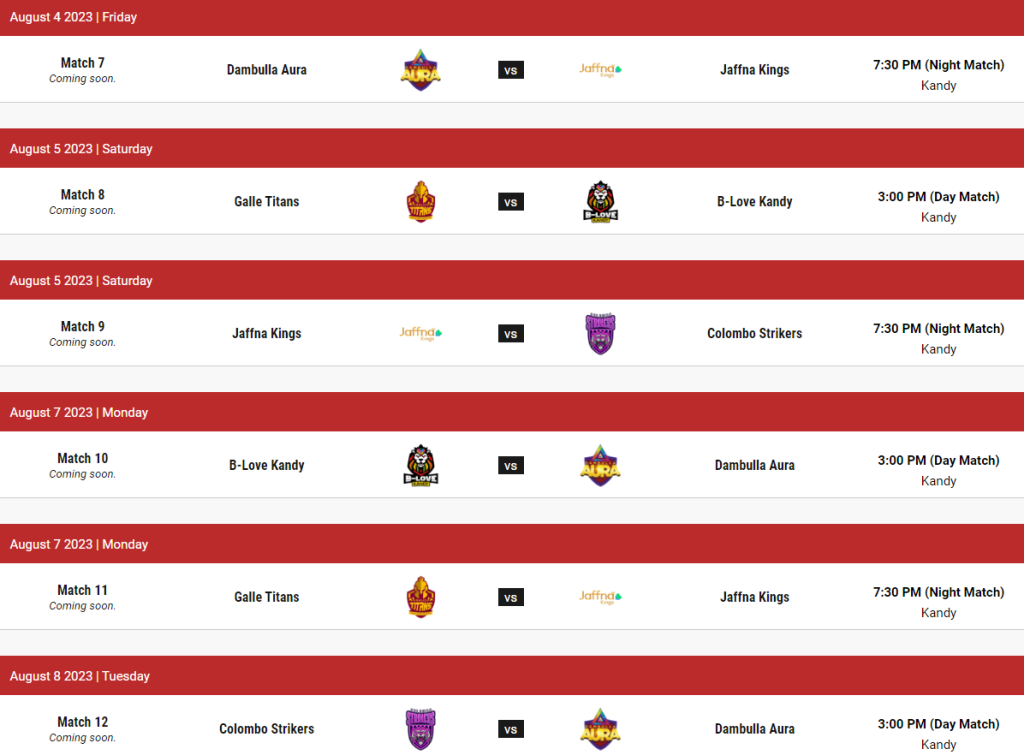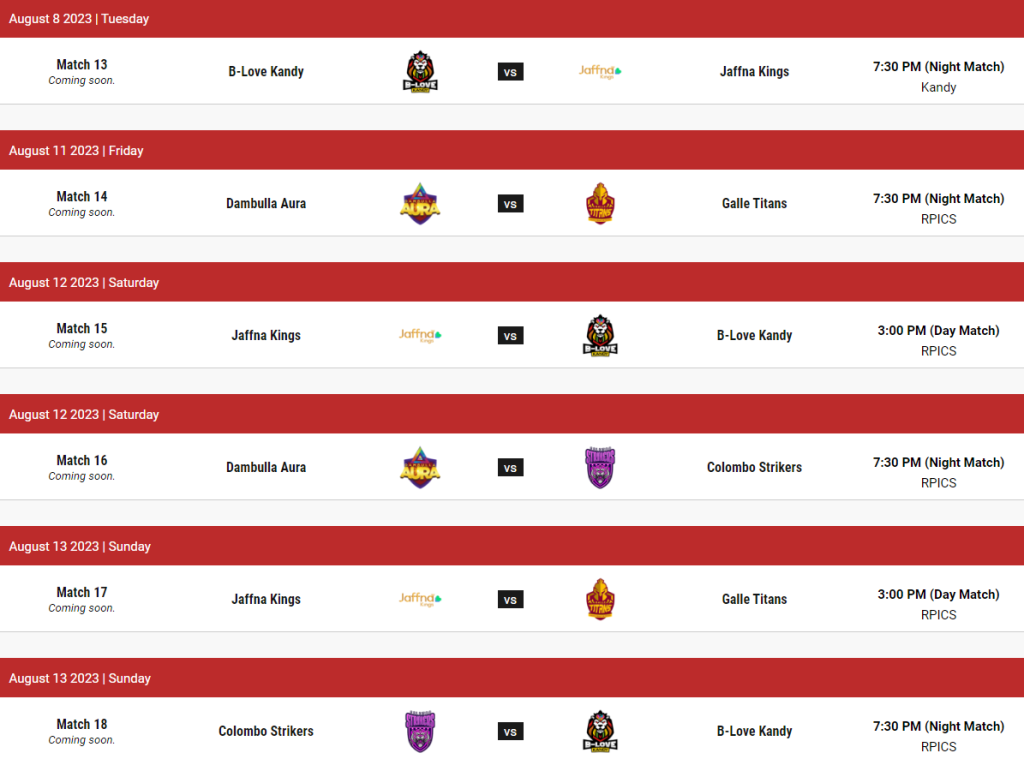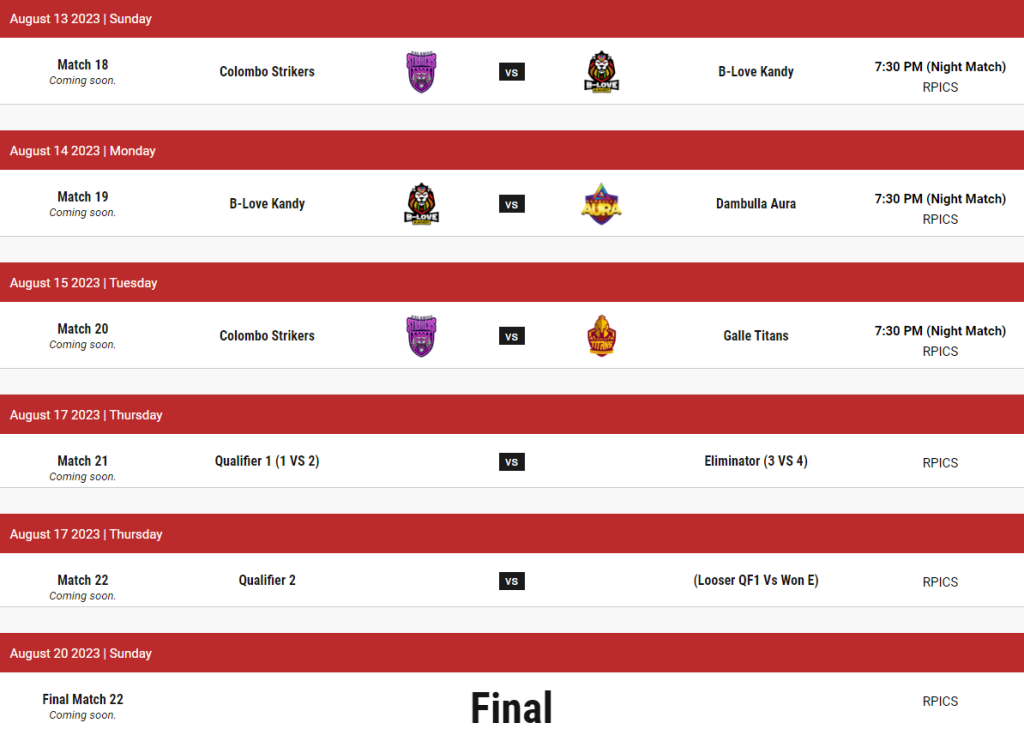 As the dates draw closer, the excitement continues to build. Fans eagerly anticipate witnessing their favorite teams battle it out on the field, showcasing their skills and determination. Each match is expected to bring its own share of nail-biting moments, spectacular displays of batting and bowling prowess, and heart-stopping finishes.
Are you Excited for the Match? 
The LPLT20 tournament provides a platform for young talents to shine alongside established players, offering a glimpse into the future of Sri Lankan cricket. Fans will witness the clash of strategies, the thrill of big hits, and the cunningness of spin and pace. The tournament promises to be a treat for both cricket purists and casual fans.
With B-Love Kandy boasting an impressive lineup, they enter the tournament as one of the favorites to lift the trophy. However, the unpredictability of T20 cricket ensures that every team has a chance to emerge victorious. The battle for supremacy will be intense, and it is difficult to predict which team will ultimately triumph.
So mark your calendars and prepare for an action-packed LPLT20 season. Whether you are a fan of B-Love Kandy or any other team, the tournament is sure to provide an enthralling experience. As the players gear up to showcase their skills, the fans eagerly await the first ball of the tournament, ready to cheer their favorite teams on.
Let the countdown begin to the LPLT20 fourth season, where cricketing excellence, thrilling matches, and unforgettable moments await us all. See you on the 30th of July at PRCIS, where the journey to crown the champions of LPLT20 will kick off in grand style.